Everyone who's pioneered into an operatory seat at the dental office is familiar with the ever "so many xrays" that are taken every few years.
"How many are you taking?", "Are we almost done yet?", and "All this radiation is insane!"
… are probably some of the common thoughts that run through your head while the xrays are being taken. Now we aren't exposing you to the radiation for fun, if that's what you're thinking. During this time, our assistants usually take 18 shots of all your teeth. 14 of which are usually "PA's" or periapical shots, and the other 4 are known as bitewings.
Periapical Shots
The periapical shots are taken at an angle where the entire root of the tooth or teeth is shown and most if not all of the tooth structure. These images are important to determine the health of your teeth's roots, bone level density, and any other decay or infection that may be present underneath the gums. Periapical shots are common to check on the progress of root canals or dental implants.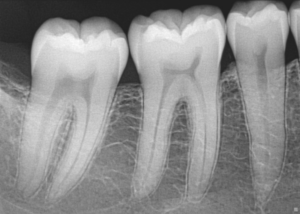 Bitewings
Bitewings are positioned between the upper and lower teeth. These xrays show images of the crown, or top parts of the tooth, usually of the molars and pre-molar teeth. Because these teeth are mostly used for chewing and grinding down food, it is important to keep them clean. Food can often get caught leading to plaque and tartar. If the area is not properly cared it can eventually lead to tooth decay. Because of this, a bitewing will indicate whether there is any decay that has occurred in between the teeth.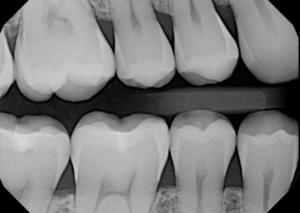 How much radiation is it?
Now 18 individual shots of the entire mouth may sound like a lot, especially if you're wondering about radiation. But the good news is that the amount of radiation exposed has been drastically reduced, thanks to technology. Our office utilizes digital xrays that provide immediate development, and up to 80% reduced radiation exposure as compared to traditional film xrays.
To sum it up
As a reference, a full set of 18 xrays exposes you to less than 5% of the radiation you get from an average week of just natural background radiation. Natural background radiation is the typical radiation you are exposed to daily from the sun and stars, minerals from the air, water, and soil, and even your body… that's right, even your body emits radiation. So the next time you need a full mouth xray, rest assured although every shot is important, the amount of radiation isn't life-threatening.